Professor Jay Lee Receives the 2019 Established Entrepreneurial Achievement Award at UC's Faculty Awards

IMS Center Director Professor Jay Lee has received the prestigious 2019 Established Entrepreneurial Achievement Award from the University of Cincinnati. This award was presented at the 2019 University of Cincinnati Faculty Awards Ceremony, which was presided over UC President Neville Pinto, on April 26, 2019. Professor Jay Kim, Professor Lee's colleague and Department Head in the Mechanical & Materials Engineering Department, accepted the award on his behalf.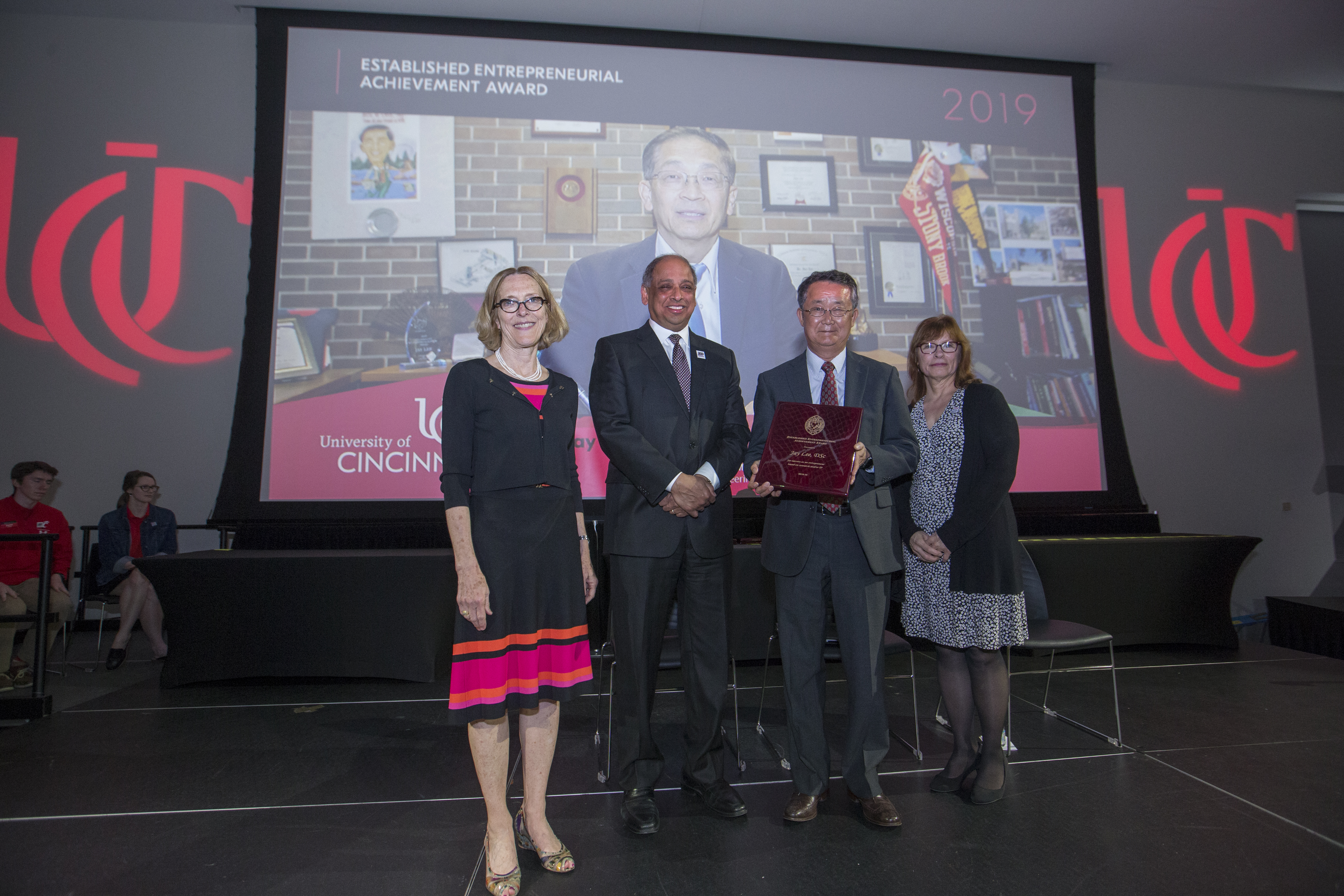 Photo by: Joseph Fuqua II, University of Cincinnati; (L-R) UC Provost Kristi A. Nelson, PhD., UC President Neville G. Pinto, PhD., MME Department Head Professor Jay Kim, PhD.
The purpose of this award is to recognize that entrepreneurship and commercialization are critical activities for the University, as well as for the broader economy, and to identify those faculty that exhibit exemplary entrepreneurial achievement.
Two awards were created for exceptional faculty achievement in promoting and maximizing the commercial potential and human benefits of university intellectual property and/or research as well as business development activities that support the expansion of markets, delivery mechanisms, and revenue streams for existing or new academic programs. Professor Lee was awarded the Established Entrepreneurial Achievement Award for his achievements in commercializing the IMS Center's Watchdog Agent Toolbox for Prognostics and Health Management by co-founding (with former students and post-doctoral fellows) local predictive analytics software and services company Predictronics Corp. in 2013, and Cyberinsight, a predictive analytics company focusing on the China market.
For more details about this award, as well as to see pictures and videos from the awards ceremony, please visit the UC Faculty Awards website here. You can also see UC's official news release here.
To learn more about Predictronics and their offerings, please visit their website here.
More information about Cyberinsight can be found here.