IMS Student Laura Pahren Receives a 2022 Outstanding Young Manufacturing Engineer Award from SME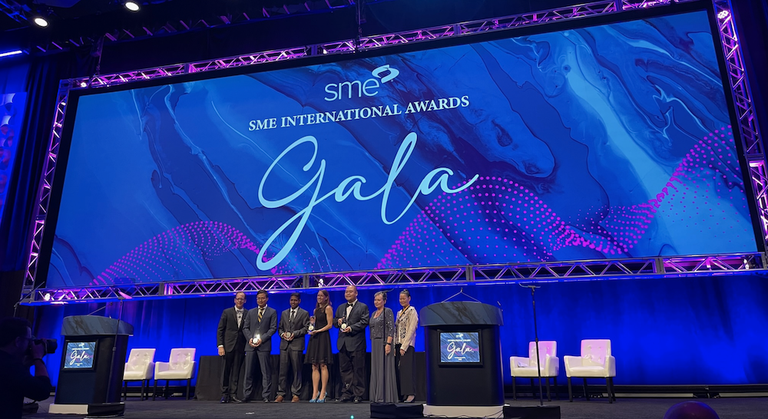 SME has announced its lineup of 2022 Sandra L. Bouckley Outstanding Young Manufacturing Engineers. IMS Center PhD graduate student researcher Laura Pahren was among the 22 awardees selected.
About Laura
Laura currently serves as a machine learning software engineer at Procter & Gamble Co. while she is completing her work as a doctoral candidate in mechanical engineering in the IMS Center at the University of Cincinnati. Pahren's primary responsibilities at P&G include standardizing AI workflows and developing software for training and inference at the edge for both traditional and deep learning-based machine vision applications to enable new artwork/processes and ensure quality products from manufacturing. Pahren's doctoral work aims to optimize some of these workflows in manufacturing with a focus on small, imbalanced datasets as well as reapplications in other areas such as the medical field for traumatic brain injury patients.
Laura received her bachelor's degree in mechanical engineering from The Ohio State University and a master's degree in mechanical engineering from the University of Cincinnati.
Continuing a Tradition
Laura's win continues a long-running tradition of IMS Center researchers obtaining this award. Past recipients include Founding IMS Director, Professor Jay Lee (1992), as well as IMS Center Co-Director Professor Jun Ni (1991), IMS Center post-doctoral fellow Dr. Muammar Koc (2004), IMS Center post-doctoral fellow Professor Dragan Djurdjanovic (2006), and IMS Center post-doctoral fellow Dr. Xiaoning Jin (2016).
More About This Award
Since 1980, the SME Outstanding Young Manufacturing Engineer Award has recognized manufacturing engineers, age 35 or younger, who have made exceptional contributions and accomplishments in the manufacturing industry.
Nominees can be selected by the SME's International Awards & Recognition Committee based on a single outstanding accomplishment, such as technical publications, patents, academic or industry leadership, or for several significant accomplishments in one or more areas of activity. The impact of these accomplishments should be recognized beyond the nominee's own institution or company. The 2022 award namesake is 2017 SME President Sandra L. Bouckley, FSME, P.Eng., former SME CEO and a previous vice president of manufacturing systems, supply chain management and lean at GKN Driveline Americas.
SME's press release about this award can be found here.