Professor Jay Lee gave a Speech about Digital Transformation at the 2019 Asian Leadership Conference

Professor Jay Lee spoke at the Asian Leadership Conference on May 14-15, 2019 in Seoul, South Korea.
His talk was part of the McKinsey & Company panel on Industrial IoT and Digital Transformation. Professor Lee was joined by senior McKinsey & Company experts as well as the head of the KT Institute of Economics & Business Research.


A Description of the Panel Session from the Event Program

In the era of prolonged productivity slowdown, how would companies find a new driving force and achieve sustained growth? The world is now at the inflection point of the major innovation caused by the Fourth Industrial Revolution, and digital transformation is the key to survival. According to a research conducted by McKinsey & Company, utilizing state-of-the-art technologies such as industrial IoT would allow a company to stay ahead of the competition by raising its production efficiency and producing high quality products in relatively short amount of time. So, the question is, how can we successfully achieve digital transformation? In this session, experts from McKinsey & Company, a global management consulting firm, and CEO from a leading digital company will get together and discuss necessity and methods of digital transformation with real-life use cases.

The theme for this year's conference is: The World at a Crossroads: Searching for Concrete Solutions. This theme aligns perfectly with Professor Lee and the IMS Center's mission to translate research on advanced technologies in Prognostics, Predictive Analytics, and Industrial AI into verifiable, deployable and impactful real-world solutions.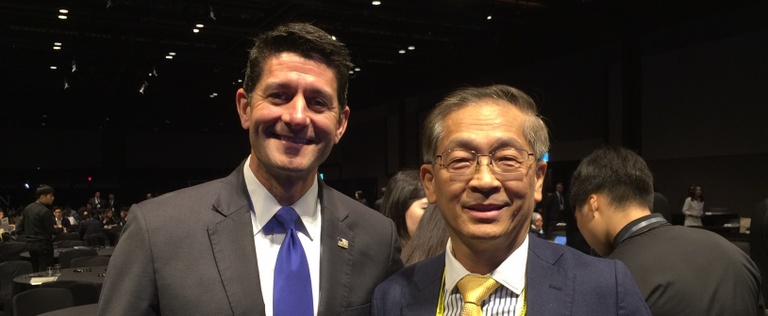 (L-R) FORMER SPEAKER OF THE US HOUSE OF REPRESENTATIVES PAUL RYAN & IMS CENTER DIRECTOR PROFESSOR JAY LEE AT THE 2019 ASIAN LEADERSHIP CONFERENCE
To learn more about this event and Professor Lee's talk, please visit the conference website here.